Colorado
Downhill Skiing & Snowboarding
Sunlight Mountain Ski Resort
Sunlight Mountain Resort
Sunlight Mountain Resort's intimate, unpretentious atmosphere can be attributed to its small-town roots. Named after a once-thriving coal mining town in the area that disappeared in the early 1900s. With its summit situated on Compass Mountain, Sunlight offers beautiful vistas of majestic Mount Sopris and the surrounding Elk Mountain Range, as well as hundreds of acres of mild greens, intermediate slopes and black diamond extremes to satisfy all levels of abilities. The affordability and laid back attitude make Sunlight a favorite for all who visit.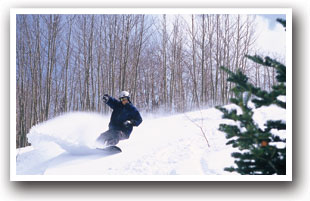 Sunlights uncomplicated trail system features 67 trails that funnel back to the base lodge and features something for everyone including cruising corduroy, steep and deep and leg-pounding moguls. All of Sunlights trails eventually end up right back at the base lodge so families will not loose each other. Sunlights Extreme, has one of the steepest trails in Colorado called The Heathen which plunges more than 50 degrees to Four-Mile Creek below. Sunlight is also home to one of the longest trails: Ute, a cruising beginner slope which winds more than two-and-one-half miles from the summit to the base.
Visitors will find Sunlight Mountain Resort a relaxed, surprisingly friendly ski area. The large sun-soaked deck beckons all to rest and rejuvenate, or just watch the activity on the hill.
General Skiing Information

Season Opening Date: December 8, 2023
Season Closing Date: March 31, 2024
Vertical Rise: 2,010 ft.
Terrain: 730 acres
Number of Trails: 72
Longest Run: 2.5 miles (Ute Trail)
Trails:
Beginner - 16%
Intermediate - 30%
Advanced - 18%
Expert - 36%
Terrain Parks: 1 (Sherick Park)
Annual Snowfall: 250 inches
Lifts: 3 Total (1 Triple & 2 Double)
Lift Capacity: 3,922 riders/hour
Facilities
Base Elevation: 7,885 ft.
Summit Elevation: 9,895 ft.
Map Location: Northwest B-9
More Activities & Information
Crystal River Valley, Colorado includes: Carbondale, Marble, Redstone
Glenwood Springs, Colorado includes: New Castle
---
Downhill Skiing & Snowboarding in Colorado