Bailey Lodge On the South Platte River
303-838-2450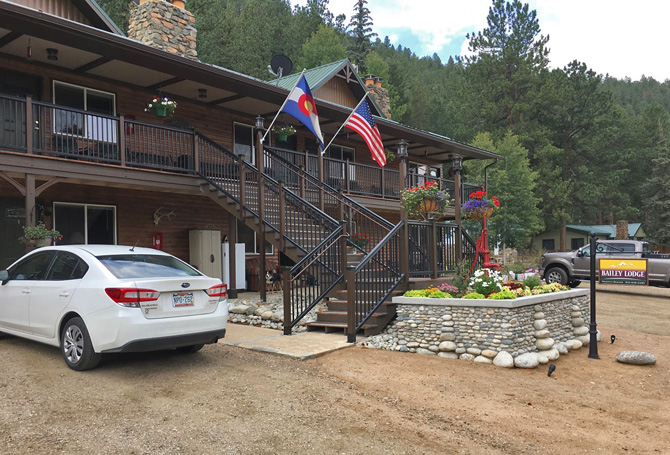 Bailey Lodge offers spacious resort accommodations overlooking a heated swimming pool and the South Platte River. All our units are two-room suites with views.
LODGE ROOM AMENITIES: Fireplace, TV, RV fridge, microwave and coffeepot standard. Some have full kitchenettes and three beautiful Premium Suites.
RESORT AMENITIES: Stocked trout pond, heated pool, playground, large swing outside.
PETS WELCOME: We have 5 units for pets vacationing with the family. There is an additional cost.
LOCAL AREA: 4 minutes from town, 4 restaurants, a brew pub, adventure park, and shops. Near Wilderness, mountain passes, and fishing river.
GUANELLA PASS SCENIC BYWAY: 15 minutes west, will take you to Georgetown along I-70; one-way takes about an hour 10 minutes. 20 minutes to top of Kenosha Pass.
LOCATION: 46 Highway miles southwest of Denver, off Highway 285. Two miles past Bailey.
ADDRESS: 57920 US Highway 285, Bailey CO 80421
PHONE: 303-838-2450 -- For Current Rates and Availability; To Book Your Vacation: mention the Colorado Vacation Directory.
LODGING
Lodging Open Dates: All Year
Lodging Rates
Nightly Lodging Rates On-Season: Range from $149 to $214
Off-season rates available, call for information.
Accommodation Description
About Smoking: All non-smoking units.
Lodge Rooms with Cooking Facilities: 7
Motel/Hotel Rooms without Cooking Facilities: 3
Microwave and Mini Fridge Only: All units.
Air Conditioning: None.
Units with Queen Beds: All units.
Units with Wood Fireplaces: 10
Additional Amenities (ask about availability): Coffee Maker with coffee.
Technology In Units
Units with TV: All units.
Type of Reception: Satellite.
Number of Channels: 200
Internet Access in Units: All units.
Internet Access at No Additional Fee: Through Wi-Fi wireless.
FACILITIES
Elevation: 8000 feet above sea level.
Location: Close to Town.
Setting: Mountain views. Waterfront setting beside a lake, reservoir or pond. Country feel. Forested.
On-Property in Central Area for Guests to Use: Outdoor swimming pool. Central Picnic Area with BBQ Grills.
Credit Cards: Visa Card. MasterCard. Discover Card. American Express.
Pet Policies
Pets in Lodging: All Dogs are allowed in designated Pet Friendly rental units. When making a reservation, be sure to ask for one of these units. There may be a fee or a deposit.
Technology For Guests To Use In a Common Area
Phone: In common area.
Fax Machine: Available with an additional fee.
Printer Connected to Computer: Available.
WI-FI Wireless Internet: Available free.
FUN THINGS TO DO
Primarily Year Round Activities
National Forests & BLM Lands: Walking distance.
State Parks: 30 minutes drive.
Designated Historic District, Site or Plaza: 5 minutes drive.
Designated Scenic/Historic Byway: 10 minutes drive to the scenic byway.
Museum: 5 minutes drive.
Golf Course: 30 minutes drive.
Art Gallery: 10 minutes drive.
Restaurant(s): 5 minutes drive.
Wine Tours OR Tasting: 5 minutes drive.
Casino Gambling: 90 minutes drive.
Primarily Summer Activities
Fishing in River, Stream or Creek: On site.
Fly Shop: 10 minutes drive.
Whitewater Rafting Office/Pickup point: 60 minutes drive.
Kayaking Rentals: 70 minutes drive.
Horseback Trail Rides (Guided): 30 minutes drive.
Jeep Trails: 15 minute drive. (off road, back country, 4WD, Jeep, or jeeping).
ATV (All Terrain Vehicles) and/or Dirt Bike Trails: 15 minute drive.
ATV (All Terrain Vehicles) and/or Dirt Bike Rentals: 30 minute drive.
Tourist Train Rides: 90 minutes drive.
Mountain Bike Trails: 20 minutes drive to trailhead.
Hunting
Hunting in Area: 15 minutes drive.
Colorado Hunting Units/Areas: 46, 501
Winter Activities
Downhill/Snowboarding Ski Area: 80 minutes drive.
Cross Country Skiing Trails: 20 minutes drive to trailhead.
Snowshoe Trails: 20 minutes drive to trailhead.
Snowmobile Trails: 25 minutes drive to trailhead.
Snowmobile Rentals: 30 minutes drive.
Ice Skating (outdoor) Skates Available: 45 minutes drive.
Find local Maps & Fun Things To Do for your Colorado Vacation
---