Bailey & Pine Area - North Central Colorado
Includes Conifer, Grant, Pine, Shawnee
Experience Bailey, Conifer, Grant, Pine, and Shawnee, Colorado
Surrounded by Pike National Forest, Bailey is just 45 miles southwest of Denver. This mountain hideaway is near all the amenities of Denver. At an altitude of 7,750 feet, it is an excellent area for hunting and fishing. A herd of about 200 bighorn sheep live in the mountains around Bailey. Recently designated one of Colorado's most scenic and historic mountain passes the 23-mile Guanella Pass Scenic and Historic Byway is one of the premier places to view the turning of the aspen in Autumn. Maintained all year round, Guanella Pass ascends to an elevation of 11,669 feet, and is suitable for passenger vehicles, bike riding or hiking, though large RVs are not recommended on this mountain byway.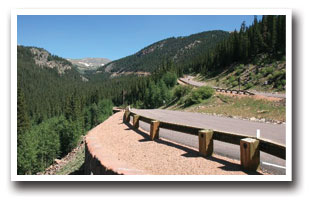 In 1864 William L. Bailey settled in the area, 14 years before the railroad arrived. In 1873, former Governor John Evens organized the Denver, South Park and Pacific Railroad to tap the bountiful supply of timber in the Platte Canyon area. An extensive network of old logging roads and connecting trails in the area provides a diversity of mountain bike riding options. The small community of Shawnee west of Bailey is the site of an early stage stop on the Denver-Leadville Stage line during the 1860s.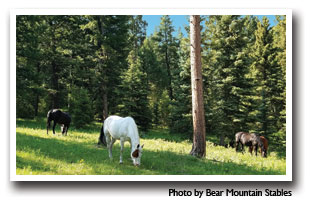 McGraw Memorial Park in Bailey is home to several historic structures and unusual artifacts. Built by William Bailey in 1864, the Entriken Cabin has been nominated for inclusion in the Colorado Register of Historic Buildings. Built in 1899 near the town of Shawnee, the Shawnee Schoolhouse moved to its present site in 1984.
Bailey & Pine Area is near: Denver Metro Area, Denver Mountain Area & Park County

Featured Bailey & Pine Area Businesses
Bailey Lodge On the South Platte River
Mountain Lodging along the river in Platte Canyon, Bailey, CO is on US HWY 285, close to Denver. Lodge suites: comfortable, two-room, fireplaces, WiFi, fishing. Heated swimming pool! Romantic in Winter!






---
Bear Mountain Stables - Private Guided Trail Rides
Bear Mountain Stables offers private guided horseback trail rides - 6 riders. We love birthdays! Nestled in the mountains secluded pine and aspen forests, rock outcroppings. Conifer is 20 minutes from Denver.




---
Deer Creek Cabin - Secluded Mountain Vacation
Log cabin 45 miles from Denver off US 285 near Bailey in the Rocky Mountains. Secluded vacation, watch for deer! Romantic woodburning stove heating, outdoor hot tub. Secluded fishing along Elk Creek.




---
Glen-Isle Resort Lodge and Cabins Along the Platte River
Near Bailey, a National Historic Site on South Platte River, 45 miles SW of Denver. Rustic mountain cabins - open all year surrounded by Pike National Forest. Pets are welcome at Glen-Isle Resort Lodge.






---
Rainbow Trout Ranch and Campground
Private stocked fishing ponds and mountain Campground -- Rainbow Trout Ranch, is off Hwy 285 at Elk Creek Road in Pine, CO. 4-1/2 miles SW of Conifer. Teach your kids to cast and catch trout at our ponds!






---
Staunton State Park
New in 2018 23 tent sites added! Staunton has multi-use and hiker-only nature trails, rock-climb, fishing, mountain bike. picnicking. birds and wildlife at this 3,800 acre state park near Pine CO off Highway 285.



---
For more travel information contact:
Bailey & Pine Area Activities & Maps
National Historic Sites and Landmarks:
Lost Creek Scenic Area

Scenic Byways:
Guanella Pass Scenic Byway

Hiking Trails:
The Colorado Trail

Fishing:
North Fork South Platte River Fishing Map
South Park Fishing Map

---