Colorado Train Rides Map
Click Trains on Map for More Information on Train Rides in Colorado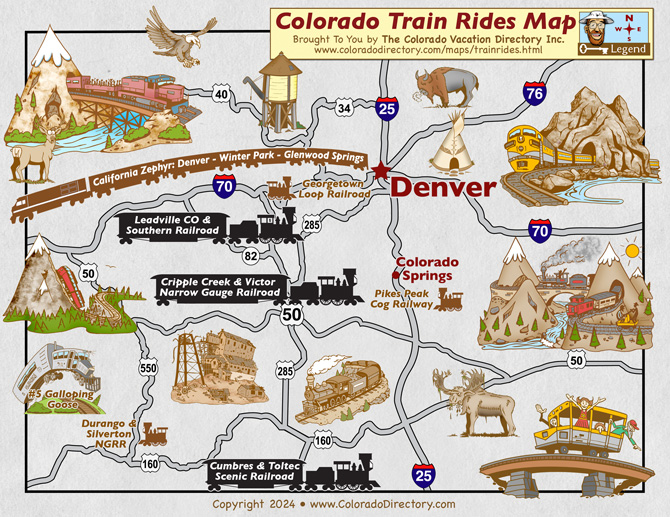 Not all towns appear on map. The publisher does not assume any responsibility for accuracy or completeness of maps. This information was compiled as accurately as possible.
Discover Colorado's Trains and Railroads
Colorado's rich railroad history is tailer made for families! Kids, parents, and grandparents can all get excited riding an historic train and Colorado has just a few to keep you singing "I've been working on the railroad, just to pass the time away. Can't you hear the captain shouting? Dinah blow your horn!"
Most of our historic train rides are on narrow gauge tracks. Colorado is the Narrow Gauge Railroad Capital of the United States offering the most scenic routes in the country that pass across, over, or through the rugged Colorado Rocky Mountains.
Explore, relax and enjoy Colorado's history and railroad heritage. These amazing train rides will take your breath way as you chug through mountain gorges, cling to jagged cliffs, and traverse the banks of the Colorado Arkansas and Animas Rivers. Train rides make exploring some of the state's most remote and untouched terrain accessible to all.
Businesses that Offer Train Rides in Colorado
Cripple Creek & Victor Narrow Gauge Railroad



Unique 4-mile round-trip narrow gauge train ride shares Cripple Creek and Victors' rich history only a dynamic gold town could produce! Our gift shop has Thomas the Tank items, books on Cripple Creek.
Cumbres & Toltec Scenic Railroad


America's Highest and Longest Narrow Gauge Railroad; 64 miles of wild, scenic, and rugged National Forest. A 19th Century Railroad Operating in the 21st Century between Colorado and New Mexico.
Leadville CO & Southern Railroad Co



Discover Leadville -- our gem high above the clouds in the Colorado Rocky Mountains. Passengers ride along the old Denver, South Park Pacific and Colorado Southern Railroad line to the Continental Divide.

---