Santa Fe - North Central New Mexico
Established in 1610, Santa Fe is America's oldest capital city - and it's not hard to see why it has lasted this long. Nestled in the foothills of the Sangre de Cristo mountains, Santa Fe is rich with historic sites, year-round cultural events and endless recreation opportunities.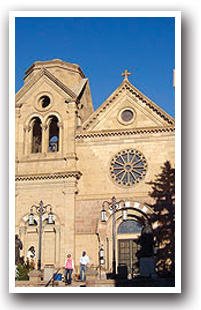 For thousands of years, ancient Puebloans, Spaniards and Anglo-Americans have called Santa Fe home, lending the city a unique blended culture all its own. Museums and historic sites throughout town are a testament to Santa Fe's storied history. Visitors can choose between dozens of museums, among them the Georgia O'Keeffe Museum and four Native American museums. In the summer, the Rancho de Las Golondrinas is great for kids. This living history site recreates life in 1800s New Mexico, complete with live animals and costumed actors.
Even more history can be found outdoors. Bandelier National Monument and Pecos National Historic Park are home to excavated dwellings of ancient Pueblo Indians. Pecos also contains several Old Santa Fe Trail sites, the site of the Civil War battle of Glorietta Pass and exhibits on ranch history. Coronado State Monument is yet another great place for kids. The site, thought to be a camping spot for Francisco Vasquez de Coronado and his troops in 1540 on their search for the fabled Cities of Gold, contains an interpretive trail that allows visitors to try on conquistador armor, grind corn and tour a reconstructed kiva.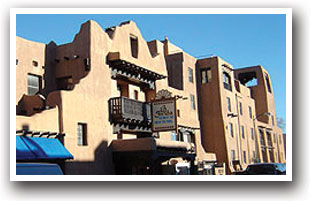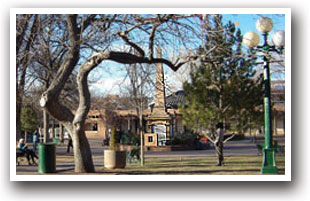 But history isn't Santa Fe's only attraction. Nearby Santa Fe National Forest contains 1.5 million acres of trails, streams and wilderness that beckon hikers, bikers, anglers and other outdoor enthusiasts year-round. The forest is also home to Santa Fe Ski Basin near Albuquerque.
Santa Fe is also well-known for its luxuries. Vacationers flock to the capital of southwestern cuisine to dine, tour its wineries and shop the city's famous Plaza, stocked with vendors selling unique southwest-influenced goods.
With everything it has to offer, it's not surprising Santa Fe has been around this long - and it's likely to stay that way for many more years to come.
Santa Fe is near: Antonito, CO
Santa Fe Activities & Maps
---