Lyons - North Central Colorado
Lyons is an intimate community, known as the "Double Gateway" to the Rockies for its dual highways that take you up the North and South St. Vrain Canyons to Rocky Mountain National Park, 20 miles west. The Historic District has 16 buildings featuring fine craftsmanship and the stunning beauty of sandstone, their native rock. A mecca for artists, outdoor enthusiasts and musicians, with 17 restaurants to choose from, many feature live music. Enjoy regional and national acts at Planet Bluegrass where the North St. Vrain Creek winds through the festival grounds making for a cool, relaxed outdoor music experience. Enjoy a mountain bike ride to Hall Ranch, rock climb at Button Rock or kayak the Whitewater Park in Meadow Park. Float on a tube down the North St. Vrain Creek, off road up Bunce School Road near Allenspark or hike around Rabbit Mountain.
Take a scenic drive up the South St. Vrain Canyon to the Peak to Peak Scenic Byway and enjoy the Rocky Mountain views. The byway passes a few of Colorado's ghost towns. Caribou used to be a silver camp but is deserted now. However, Nederland (the town that was established to supply Caribou) lives on. There are also many gold mines along Highway 72 and 119. On the weekends, prospectors still pan for gold in the creeks, and there are a few gold mines along the way that allow the public to pan for the sparkling golden flakes. Visitors have to pay to pan, but children find it exciting and many times rewarding, making it worth the small fee.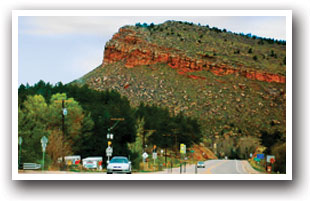 Lyons Whitewater Park located in Meadow Park on the St. Vrain River; the course is a quarter mile long with 8 features starting at the "swimming hole." The course is not challenging with only beginner to intermediate drops so many tubers enjoy the ride too. It is an easy walk back to the start as it bends around the west end of the Park so you can take multiple rides in one day.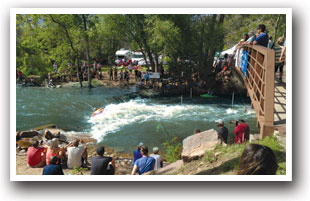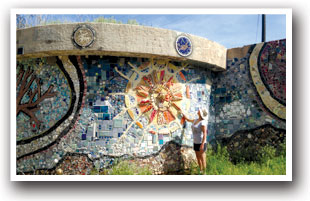 When visiting Estes Park, be sure to visit Rocky Mountain National Park. The eastern gate to the park is located at the edge of Estes Park. Rocky Mountain National Park is also home to Trail Ridge Road, the highest continuous paved road in the United States.
Lyons is near: Allenspark, Boulder & Estes Park Area
Featured Lyons Businesses
Hideout Cabins - Pet Friendly - Hot Tubs
Semi-secluded vacation retreats (in different mountain towns) near Allenspark, Rocky Mountain National Park, Estes Park, and Lyons. Hideout Cabins are pet-friendly with private hot tubs and woodstoves.





---
LaVern Johnson Park and Campground
LaVern Johnson family campground, along St Vrain Creek, is in Lyons near Boulder, Estes Park, and Rocky Mountain National Park. Amenities: Full hookup and tent sites, huge playground, picnic shelters.




---
River Bend Mountain Retreat
Cozy cabin mountain retreat, Near Lyons, Estes Park and Allenspark, along the Middle St Vrain River. Fish the bend! Count the stars. Hike and snowshoe in Roosevelt National Forest. Dogs welcome. WiFi.





---
Lyons Activities & Maps
National Parks and Monuments:
Rocky Mountain National Park

Scenic Byways:
Peak to Peak Scenic Byway

Jeep & 4WD:
Roosevelt National Forest Jeeping & ATV/UTV Trails

Local Area Maps:
Rocky Mountain National Park Area Map

---