Colorado Jeep & 4WD
Roosevelt National Forest Jeeping & ATV/UTV Trails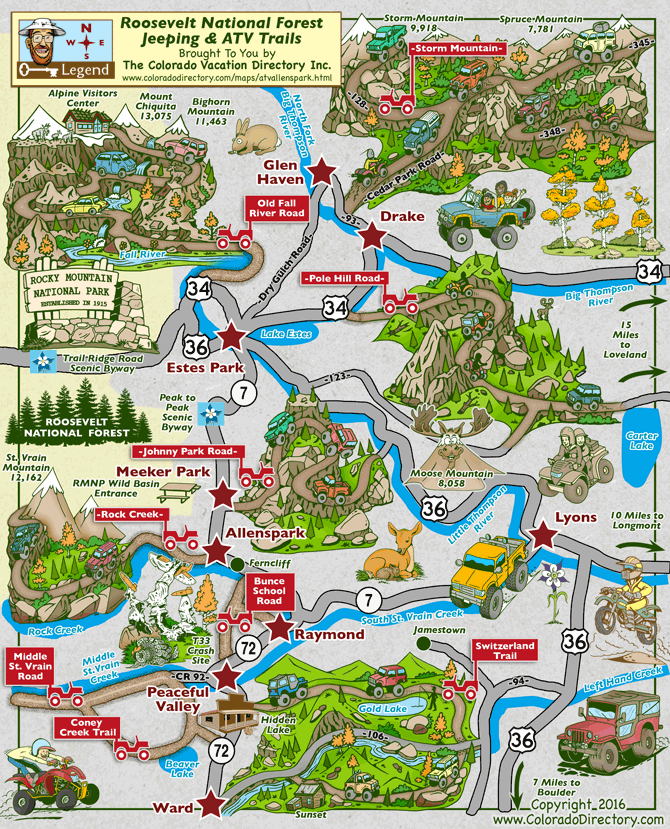 Roosevelt National Forest Jeeping & ATV/UTV trails near and around Glen Have, Drake, Estes Park, Meeker Park, Allenspark, Raymond, Peaceful Valley, Lyons and Ward, Colorado. Featuring some of these exciting Trails: Storm Mountain, Old Fall River Road, Pole Hill Road, Johnny Park Road, Rock Creek, Bunce School Road, Middle St. Vrain Road, Coney Creek Trail, and the Switzerland Trail
Roosevelt National Forest Jeep & ATV Trails
Jeeping and ATVing along the Northern Front Range of Colorado is an unforgettable experience. Roosevelt National Forest contains plenty of off-road adventures for all levels of adventuring and exploring. From majestic views and mountain meadows to ghost towns and gold mines from our historic past, these seldom traveled ATV, UTV, and Jeep trails offer plenty to discover. Bring a picnic, binoculars, camera and map then start your off road adventure in Roosevelt National Forest.
North Roosevelt National Forest Jeep & ATV Trails
Old Fall River Road: This is a "must do" experience and is the only place to Jeep inside Rocky Mountain National Park. (The road is dirt but can be done in a 2-wheel drive car). The views of the park are beyond compare. ATVing is not allowed and only licensed vehicles are permitted. Old Fall River Road starts 10 minutes west of Estes Park. Once you start, this one-way road takes you past Big Horn Mountain and Mount Chiquita straight up to the Alpine Visitors Center well above the tree line (11,796 ft). Sit back and take in the views, wildlife, waterfalls and all that is Rocky Mountain National Park. From the Alpine Visitors Center, you can re-connect with Trail Ridge Road and make your way back down to Estes Park. You won't be disappointed.
Pole Hill Road: Pole Hill Road is east of Estes Park along Highway 34. Pole Hill Road will eventually lead to Carter Lake and down into the Town of Loveland. The first mile of Pole Hill Road is extreme, but after that, the road is much easier. It is a great ride and loved by the locals.
Storm Mountain: Travel up this secluded mountain road with breathtaking views. From Estes Park you can work your way up Dry Gulch Road to Glen Haven. From there, head east and look for Cedar Park Road. That's when your off-road adventure begins. The trail system is large and the skill level is easy to moderate and consists of roads 128, 345, and 348. If you look, you can find more challenging areas along the way. Be ready to experience mountain meadows, aspen trees, natural springs, wildlife, and even an old homestead. Storm Mountain has it all.
South Roosevelt National Forest Jeep & ATV Trails
Bunce School Road: South of Allenspark on Highway 7 is Bunce School Road and Camp Dick. This is a huge and very busy trail system. Mostly moderate and easy trails with a few harder ones spread throughout. Further on the south side is much rockier. There are many chances to drive or ride through deep water, not to mention a hidden lily pond that is frequented by moose. For the more advanced, there is a trail that leads to a T-33 Air Force Plane crash site, something not many get a chance to see.
Coney Creek Road: The extra adventurous can try out the Coney Flats Road. It can be accessed between Peaceful Valley and Ward. The challenging five-mile ride is easily accessed near the end of the Middle St. Vrain Road. Here, riders climb a steep, rocky and narrow trail up to a large body of water that can run from shallow to deep depending on the season. Four-wheelers should stay in the center of the body of water to cross and watch to make sure their air intakes don't go under water. Those who make it across will find a smaller water obstacle and then a downhill ride to Beaver Reservoir. Alternatively, riders can start at Beaver Reservoir and then take the steep, rocky road downhill to Road 72
Johnny Park Road: South of Estes Park along Highway 7, Johnny Park Road connects to Highway 36. The majority of Johnny Park Road is easy except for one difficult and muddy section that can be bypassed. This road offers gorgeous views of the Indian Peaks and some prime camping sites. Johnny Park Road is a hidden gem and not very well traveled.
Middle St. Vrain Road: West of Peaceful Valley off of County Road 92 is the more moderate Middle St. Vrain trail. This three-mile route offers a few moderate obstacles as well as several small stream crossings. Riders who make it to the end are rewarded with a scenic area with several hiking trails and stream fishing. Coney Creek Road also can be reached from the Middle St. Vrain Road.
Rock Creek: Begin this road in Allenspark. Originally this road led to the Rock Creek Ski Area in the 1940's. This road is ideal for the thrill seeker who wants something more than a bumpy road. This road gets rocky the further you travel up it. Below, the area is a popular camping area. Slow down and watch out for kids and dogs. As you drive further up the road, the crowds become non-existent. The road is steep, rocky and gets hard towards the top. Many offshoots will lead to dead ends, but are fun to explore as you make your way up St. Vrain Mountain. At the top the trail ends at a sign. Bring your gear for a remote camping experience.
Switzerland Trail: Not recommended for ATV's, Switzerland Trail goes for many miles and is an easy drive. The many offshoots tend to get progressively more difficult. If you are looking for a challenge, explore the area. Along the way you will be rewarded by gorgeous views. The Switzerland Trail also takes you by Gold Lake and the ghost town of Sunset.
The Roosevelt National Forest offers countless ATV and 4x4 opportunities. Remember to stay on the road or trail so that together we can keep Colorado a playground for everyone.
Places to Stay & Fun Things to Do
Estes Park ATV Rentals

Kawasaki T-Rex ATV 1-4 riders; Rent your UTV in Estes Park: 3 or 6.5 hours. Off-Road Rentals are licensed to drive on all roads! Visit 1965 T33A jet crash the Air Force left in the mountains. Unguided adventures!
More Activities & Information
Allenspark, Colorado includes: Meeker Park, Raymond
Estes Park, Colorado includes: Drake
---
Jeep & 4WD in Colorado