Colorado Jeep & 4WD
Switzerland of America Jeeping & ATV/UTV Trails
Not all towns appear on map. The publisher does not assume any responsibility for accuracy or completeness of maps. This information was compiled as accurately as possible.
Ouray, Telluride, and Silverton four-wheel drive trails revive Colorado's history. Ghost towns, mountains filled with old mines, and backcountry roads provide a glimpse into the roots of early western life. Some of these trails are not for the faint of heart and signs should be taken seriously when talking about the steepness of the grade. Don't let this deter you, there are plenty of fun trails throughout the area for your entire family to enjoy no matter their ability.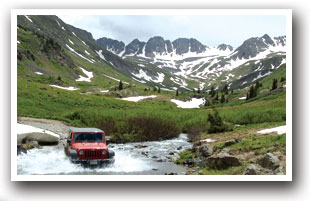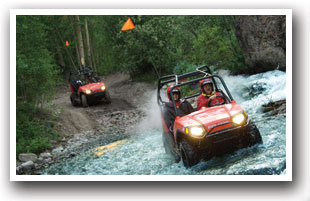 Ride Trail #623 up to Wilson Peak, one of Colorado's 53 fourteeners standing at 14,017 ft. The Trail splits off from County Road 625 and takes you up to the peak.
About 15 miles south of Telluride along Highway 145 starts Trail #626 near Trout Lake. From the trailhead, it runs north paralleling the highway and meets up with Trail #627. If you continue along, you will ride up to Yellow Mountain standing at almost 13,000 ft.
This was originally a toll road between Telluride and Silverton, built in 1891. There are two Trails that lead up to Ophir Pass: #679 and #630. The trailhead for #679 starts about 8 miles north of Silverton on Highway 550 on the left. Follow signs for Ophir Pass. Once at the top of the pass, it turns into Trail #630 and meets up with Highway 145 on the other side.
Trail #632 is a short little trail taking you past the Ghost Town of Alta and Mountain Village. Alta was a big mining town and you can still see remnants of buildings that once were busy with locals. Access to the trail is just south of Mountain Village and it meets up with Highway 145.
Access to Black Bear Pass starts on Trial #823, 10 miles north of Silverton and 13 miles south of Ouray off Highway 550. The road up to Black Bear Pass is tough but the scenery makes it well worth it. At the top of the Pass, the trail turns into #648; this is where it turns into a "1-way-only" Trail. Vehicles MUST travel downhill (East to West) towards Telluride. DO NOT attempt to access Black Bear Pass from Trail #648.
Take Trail #869 or #853 up to Imogene Pass. The trailhead for #853 starts a few miles outside Ouray along Camp Bird Road. The trail will take you past the Ghost Town of Camp Bird up to the pass. The Trail then turns into #869 and will lead you all the way to Telluride. Governor Basin and Yankee Boy Basin are also available along this route but requires a greater level of experience to traverse. This route opened in 1966 due to the efforts of various 4WD clubs in the area.

Places to Stay & Fun Things to Do
G&M Cabins - Downtown Lake City

Visit ghost towns on top of the world, G&M Mountain Cabins have direct access for OHVs to the Alpine Loop! Stay in Lake City CO walk to downtown shops, restaurants, river fishing. WiFi and DirecTV with HD.
More Activities & Information
Ouray, Colorado includes: Ridgway
Telluride, Colorado includes: Rico
---
Jeep & 4WD in Colorado