Colorado Jeep & 4WD
St. Elmo Jeeping & ATV/UTV Trails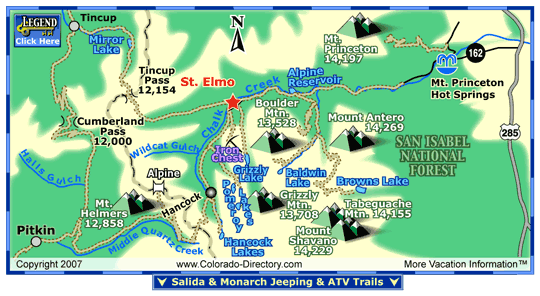 Not all towns appear on map. The publisher does not assume any responsibility for accuracy or completeness of maps. This information was compiled as accurately as possible.
Southwest of Buena Vista is a town called St. Elmo and ATV & 4x4 Trails ranging from easy to highly technical. Towering 14,000' peaks, affectionately named 14er's, are visible all along US 24/285. Traveling west, from US 285, on County Road 162 places you between Mt. Princeton (14,197') and Mt. Antero (14,269') on the way to St. Elmo's adventure trails. Certainly no lack in elevation!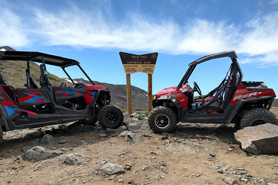 St. Elmo's roots originate in the late 1800's mining era. Venturing south to Hancock Ghosttown leads to the Alpine Tunnel, the first bore through the Continental Divide. The tunnel brought the Denver, South Park and Pacific railroad to Buena Vista and Leadville. Along this path the Iron Chest Mine is accessible. This is considered one of the most technical trails in Colorado! A little further south is another side trail leading to Pomeroy Lakes and Mary Murphy Mine.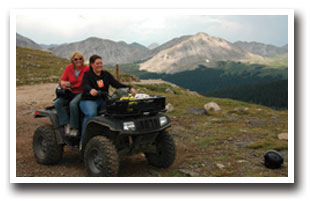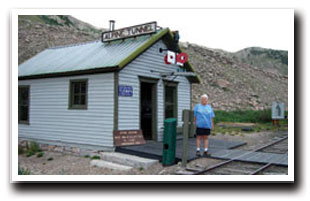 Grizzly & Baldwin Lake provide remote camping and fishing for adventurists. Browns Lake trail traverses 14,000' and offers more remote camping and fishing. No less important Tabeguache Mountain and Mt. Shavano rise above 14,000' at trail's end.
Places to Stay & Fun Things to Do
BV Jeeps and ATVs


Buena Vista = Mountain Back-Country Adventure! A true Colorado Experience: ride a Jeep or ATV have a fantastic time getting to our highest peaks, see ghost towns, wildlife. Rentals: Hourly, half-day, full-day.
More Activities & Information
Buena Vista Area, Colorado includes: Johnson Village, Nathrop, St. Elmo
---
Jeep & 4WD in Colorado