Colorado Jeep & 4WD
Columbine & Steamboat Springs Jeeping & ATV/UTV Trails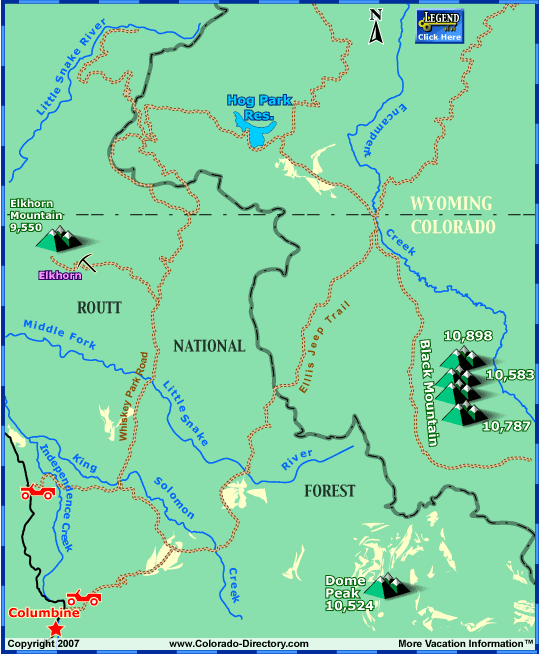 Not all towns appear on map. The publisher does not assume any responsibility for accuracy or completeness of maps. This information was compiled as accurately as possible.
The secluded ATV trails of the Columbine area are perfect for the off-roader seeking an escape from the crowds. Far from major interstates and metropolitan areas, the trails snake through more than 1 million acres of Routt National Forest land, making it easy to find your own private paradise.
Riders in the area can choose from trails for every level, from beginner to expert, as the land varies from grasslands to alpine forests. The trails pass by the Continental Divide and the Black Mountain range and can even take riders into neighboring Wyoming. Wildlife abounds, so visitors should be on the lookout for the elk, mountain lion and occasional moose that roam the area. Off-roaders can also take advantage of the great fishing and hiking opportunities throughout the forest.
Those not used to high altitude should take extra caution, though. The majority of land is located at or above 8,000 feet, making it difficult for anyone not used to the thin air.
For complete Jeeping & ATV Information near Columbine/Steamboat Springs Contact:
Hahns Peak/Bear Ears Ranger District
925 Weiss Drive
Steamboat Springs, Colorado 80487
970-879-1870
More Activities & Information
Steamboat Springs, Colorado includes: Clark, Columbine, Hahn's Peak, Hayden
---
Jeep & 4WD in Colorado