Colorado Jeep & 4WD
Crystal River Valley & Crested Butte Jeeping & ATV/UTV Trails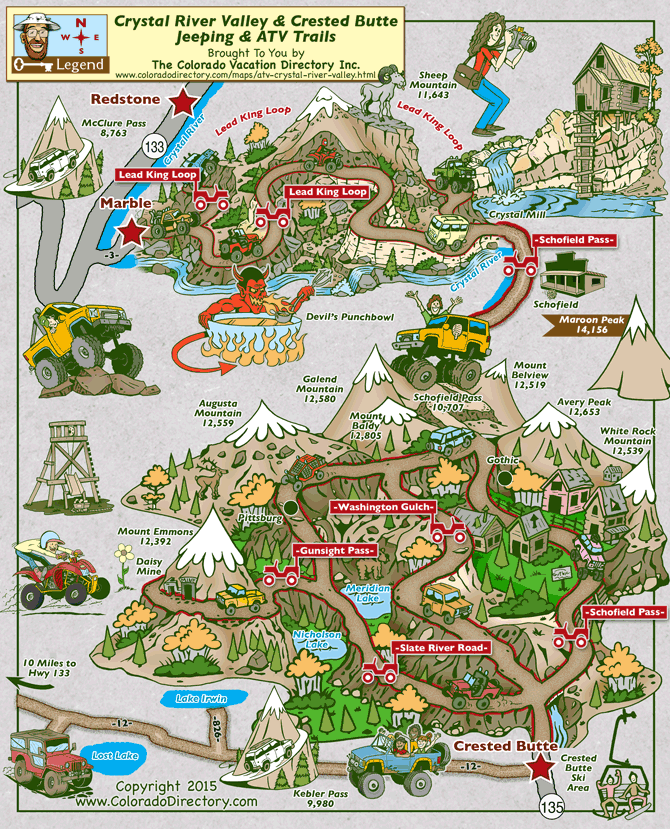 Not all towns appear on map. The publisher does not assume any responsibility for accuracy or completeness of maps. This information was compiled as accurately as possible.
The Crystal River Valley and Crested Butte areas are filled with beautiful views of peaks, valleys, and wildlife; you just have to work to see them. Some of these routes are for adventurous people looking for a challenging ride. Some sections of these trails have been carved out of granite and are barely wide enough to fit a Jeep, there are steep grades, and sheer cliffs below you. If you're a thrill-seeker, this is the area for you!
Lead King Loop Around Sheep Mountain
The Loop is usually taken by people coming from Marble since it is just east of town. Take County Road 3 east; the road will fork: Road 314 to the right will take you past the Crystal Mill, the most photographed Mill in Colorado. A section of this route is labeled Devil's Punchbowl; it is narrow, rugged, and not a good choice for beginners. Road 315 to the left will take you through the Lead King Basin. This route is also narrow and rugged; low-lying vehicles cannot traverse these rocks and will bottom out.
Both routes will lead you to the ghost town of Crystal; from here you have 3 options to continue your ride: take the same route back to Marble, take the opposite route and finish the Loop, or head to Schofield Pass.
Schofield Pass To Crested Butte
This route is usually taken by people coming from Crested Butte. While Schofield Pass is a treacherous climb, it has some of the most scenic vistas you will see in the central Rocky Mountains. This is ideal for unguided rentals.
If you want to head directly to Schofield Pass, take Road 317 to the east. It will take you through the town of Gothic and past some awesome views of White Rock Mountain and Avery Peak.
A different way to get to the Pass is via Washington Gulch along Road 811. Once you connect with Slate River Road, you'll continue east.
Slate River Road to the west offers more trail opportunities. Turn off Road 734 onto Road 585 to head up Gunsight Pass where the Daisy Mine entrance lives. Continue north on 734 through the town of Pittsburg and head up to Schofield Pass.
Other Mentionable Routes
County Road 12 directly west of Crested Butte will take you up and over Kebler Pass. ATVs are not allowed on this route. We recommend you have a Jeep or high-clearance vehicle on this route; the "family-truckster" will not be able to traverse this pass. After the Pass, Road 826 will take to you Lake Irwin and Road 706 will take you to Lost Lake.

Places to Stay & Fun Things to Do
Glenwood Springs Jeep Rental - Jeep Wranglers


We offer outdoor adventure; rental a new Jeep Wranglers are perfect for exploring the backcountry roads around Glenwood Springs. We have 6 Jeeps; each seat 5 people. Family Fun! See Hubbard's Cave!
More Activities & Information
---
Jeep & 4WD in Colorado