Colorado Jeep & 4WD
Lake City, Ouray, & Silverton Jeeping & ATV/UTV Trails
Not all towns appear on map. The publisher does not assume any responsibility for accuracy or completeness of maps. This information was compiled as accurately as possible.
During the 1800s, miners came to Southwest Colorado to mine for silver, gold, lead, and zinc in the San Juan Mountains and found their riches. To traverse this area, the miners built roads to transport supplies by mule drawn wagons. Today, the roads are where Jeep & ATV enthusiasts ride the backcountry and where they can leave city-life behind.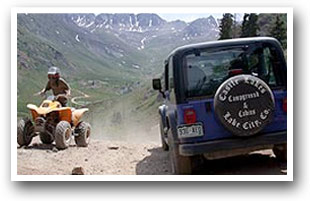 Abandoned mines are scattered throughout the area and most of the trails can only be accessed by an Off-Highway Vehicle (OHV). The entire area is connected by the Alpine Loop Scenic Byway; while it is a designated byway, you should ride Jeeps and ATVs on these roads. Much of this area is rated difficult so be prepared, be equipped, and have fun!
LAKE CITY TRAILS
Trail # 870 takes you past the ghost town of Capitol City and gives you views of Wetterhorn Peak (14,015'). Trail # 877 will take you up to Uncompahgre Peak (not pictured on the map). To the south, "Ride the Divide" on Wager Gulch and see views of the Continental Divide.
OURAY TRAILS
The trails leading west out of Ouray will take you through various ghost towns: Trail # 878, Trail # 886, Trail # 25, Trail # 825. Explore old Colorado mining history through these long abandoned buildings. Animas Forks, Gladstone, Guston, and Rose's Cabin are all along these trails; most of these towns have been adopted by historical groups and some may have working restaurants for you to stop and have lunch. Rose's Cabin is one of the first structures to be built in the area, a small inn that served local miners in the 1800s. The building that once housed a bar, restaurant, and 22 small rooms is now a place to explore old mining history. Animas Forks is known for the huge blizzard in 1884 that covered the town in 25 feet of snow over 23 days.
SILVERTON TRAILS
Trail # 20, Trail # 52, and Trail # 589 all lead up to Mount Rhoda. "Ride the Divide" on Trail # 737, Trail # 520, and Wager Gulch; all three will take you up and over the Continental Divide and along the Rio Grande River.
Other sights to see: The American Basin is one of the most beautiful wildflower viewing areas in the nation. The valleys of wildflowers bloom in late July, accompanied by some of the last wild bumblebees. Three of Colorado's Fourteeners are along these trails: Sunshine Peak (14,001'), Handies Peak (14,048'), Redcloud Peak (14,034').
Places to Stay & Fun Things to Do
G&M Cabins - Downtown Lake City

Visit ghost towns on top of the world, G&M Mountain Cabins have direct access for OHVs to the Alpine Loop! Stay in Lake City CO walk to downtown shops, restaurants, river fishing. WiFi and DirecTV with HD.
San Juan Backcountry Tours and Rentals


Colorado Backcountry Awaits YOU: 4x4, UTV, ATV, Jeep. Guided Tours into the regal San Juan Mountain around Silverton. Book our 3-Day ATV Adventure Tour. On-Your-Own-Rentals, local maps are provided.
More Activities & Information
Lake City, Colorado includes: Powderhorn
Ouray, Colorado includes: Ridgway
---
Jeep & 4WD in Colorado