Local Area Map
Buena Vista, Park County, Leadville Area Map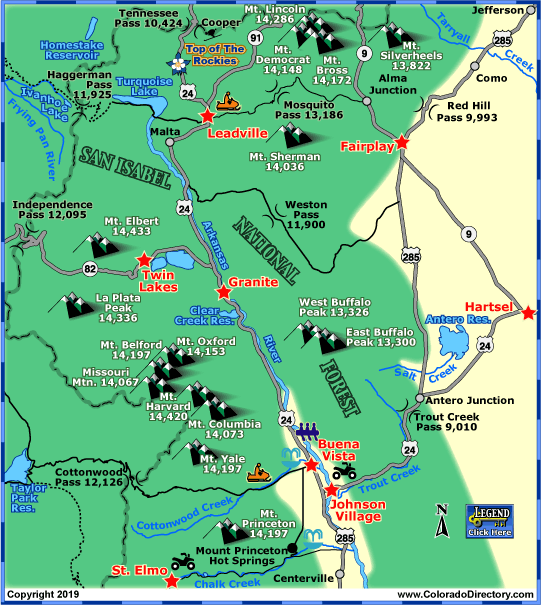 Not all towns appear on map. The publisher does not assume any responsibility for accuracy or completeness of maps. This information was compiled as accurately as possible.
The Buena Vista, Park County and Leadville area is a must-see for Colorado historians and for anyone looking for an adventure. This area was once home to the Ute Indians, and then, like many Colorado towns, miners came when they learned of gold in the area. In 1859-1860, the famous Slater Party made an 8 million dollar gold discovery in California Gulch, starting the swarm of prospectors to the Leadville area. By the 1860s, however, minors had exhausted the area of gold. Alvinus Wood and William Stevens, two veteran minors, discovered a number of years later that "all that black stuff" that they were having trouble separating from the gold was actually silver bearing lead ore. By 1880 the silver boom began bringing prosperity to the area once again. Leadville quickly became the largest city in Colorado. Many famous people trace their roots to Leadville. J.J. and Molly Brown and Baby Doe and Horace Tabor are just a couple of the people who struck it rich here.
Buena Vista Area Activities & Maps
National Parks and Monuments:
Browns Canyon National Monument

Scenic Byways:
Collegiate Peaks Scenic Byway

Seasonal Attractions:
Leadville CO & Southern Railroad Co

Hiking Trails:
The Colorado Trail

Fishing:
Arkansas River Headwaters Fishing Map - East
Arkansas River Headwaters Fishing Map - North

Rafting & Kayaking:
Arkansas River Rafting & Kayaking

Jeep & 4WD:
Buena Vista Jeeping & ATV/UTV Trails
Salida & Monarch Jeeping & ATV/UTV Trails
St. Elmo Jeeping & ATV/UTV Trails

Hot Springs:
Buena Vista Hot Springs

Snowmobiling:
Buena Vista Area Snowmobile Trails

Local Area Maps:
Buena Vista, Park County, Leadville Area Map

More Activities & Information
Buena Vista Area, Colorado includes: Johnson Village, Nathrop, St. Elmo
Leadville & Twin Lakes Area, Colorado includes: Granite, Twin Lakes
Park County, Colorado includes: Alma, Como, Fairplay, Hartsel, Jefferson, Spinney Mountain Reservoir
---