Colorado Family Fishing Information
Introduce Your Family to the Sport of Fishing in Colorado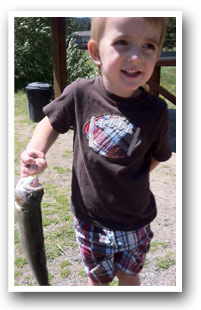 Make it interesting. Combining activities can help hold a kid's interest. Let kids make their own fishing rods from branches and fishing line. Or search for bait under rocks or in weeds near wet places, like lakes and streams.
Avoid kiddy equipment. Most experts recommend starting kids with a quality ultra-light bait cast or spin cast rod and reel combo; they're often easier for kids to handle.
Use tiny hooks. Fish tend to avoid big hooks - usually anything larger than a size 10. Small hooks also allow fish to swallow the bait, rather than just nibble it and zip away. If a fish swallows your hook and you're fishing catch and release, just cut the line as close to the hook as possible and let the fish back into the water.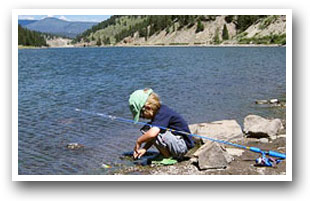 Unless you're planning on catching gigantic fish, stick with light line. A six-pound test line or less is best.
Stick with small bobbers. Bobbers, or floats, are used to suspend your bait in the water and to alert you when to set the hooks. When it comes to bobbers, size matters, and - in this case - the smaller, the better. "Slip" bobbers and small ice fishing bobbers are easier to cast and help convince fish to take your bait. Large bobbers are hard for fish to pull under, giving them a better chance to take the bait and run.
More bait doesn't equal more fish. You don't need to pack your hook with giant night crawlers. Use live bait such as worms, bee-moths or crickets and cut the bait to fit your hook.
Always remember to bring:
Life Jackets. These are essential for any youngster fishing on or near the water.
Sunscreen. Fishing outside + Colorado's sun = One sunburned kiddo. Smear on a lotion with at least SPF 15 before starting and reapply often.
Insect repellant.
Sunglasses. Not only do they shield eyes from the sun glinting off the water, but they also can protect kids from flying casts and hooks.
Food! All that fishing can make a kid hungry.
A cooler. Use it to keep drinks cold and worms alive. Once you're done for the day, cart your freshly caught fish home in it.
Hat or visor. They keep the sun off your face and out of your eyes - plus, they look cool.
First aid kit. Just in case!
Where to Go Fishing in Colorado
Colorado is home to many great fishing holes, spread out throughout the state. Whether you reside in Limon, Denver or Grand Junction, there's bound to be somewhere teeming with fish near you. Some recommendations, divided by region:
Eastern Plains
North Sterling Reservoir and State Park
Nearest Town: Sterling, CO
Fun Fact: The reservoir and surrounding park offer fishing, boating, biking trails and, in the summer, weekly campfire educational talks.
Bonny Lake State Park
Nearest Town: Burlington, CO
Fun Fact: Besides plenty of fish, Bonny Lake and its park are home to more than 300 species of resident and migratory waterfowl, as well as beavers, raccoons, rabbits, deer and turkeys.
Flagler Reservoir State Wildlife Area
Nearest Town: Flagler, CO
Fun Fact: Bring a fishing pole AND a camera. This reservoir is home to a large number of white pelicans that occasionally dip down to scoop up fish near the water's surface.
John Martin Reservoir
Nearest Town: Hasty, CO
Fun Fact: Make a weekend of it! The reservoir is near kid-friendly historic attractions such as Bent's Fort and the Koshare Indian Museum.
Northern Front Range
Carter Lake
Nearest Town: Loveland, CO
Fun Fact: Caught all the fish you want for the day? You don't have to leave the water yet. The lake is also a great spot for water skiing, scuba diving and swimming.
St. Vrain State Park
Nearest Town: Firestone, CO
Fun Fact: With roughly 80 acres of ponds scattered throughout this park, St. Vrain is teeming with trout in the spring and fall.
Lake Estes » View Map
Nearest Town: Estes Park, CO
Fun Fact: Don't have a boat? Don't have a problem. The Lake Estes Marina offers rentals from one-passenger kayaks to nine-passenger pontoons.
Sawhill Ponds and Walden Ponds
Nearest Town: Boulder, CO
Fun Fact: Located a half-mile north of Valmont Drive, on North 75th Street, this series of 20 ponds along Boulder Creek range from one to 30 acres in size.
Central Front Range
Bear Creek Lake Park
Nearest Town: Morrison, CO
Fun Fact: Located just west of Denver, this park, which has three lakes, also has stables for horseback riding and an archery range.
Chatfield State Park
Nearest Town: Littleton, CO
Fun Fact: Just south of Denver and just north of Castle Rock, this large reservoir is stocked regularly with fish and open year round, for open water fishing in the summer and ice fishing in the winter.
Georgetown Reservoir
Nearest Town: Georgetown, CO
Fun Fact: This reservoir also powers the town's electric plant. A stop at the Georgetown Energy Museum can help explain exactly how it works!
Palmer Lake
Nearest Town: Palmer Lake, CO
Fun Fact: Part of the Tri-Lakes region between Colorado Springs and Denver, Palmer Lake is close to Monument Lake and Lake Woodmoor as well as the popular 15-mile Santa Fe Regional Trail, which runs along the Air Force Academy boundary and follows the old Atkinson, Topeka and Santa Fe railroad.
Southern Front Range
Lake Pueblo State Park
Nearest Town: Pueblo, CO
Fun Fact: After fishing, check out the reservoir's swim beach, which features a five-story waterslide.
Runyon/Fountain Lake State Wildlife Area
Nearest Town: Pueblo, CO
Fun Fact: This area is also a bird-watching hot spot. Keep an eye out for herons and cormorants, among others.
Lathrop State Park
Nearest Town: Walsenburg, CO
Fun Fact: This park has not just one, but two lakes. Check out both Martin Lake and its quieter cousin, Horseshoe Lake.
DeWeese Reservoir State Wildlife Area
Nearest Town: Westcliffe, CO
Fun Fact: This large reservoir is also near several ideal whitewater rafting spots.
Western Slope
Blue Mesa Reservoir » View Map
Nearest Town: Gunnison, CO
Fun Fact: Blue Mesa Reservoir is Colorado's largest body of water and is the largest Kokanee Salmon fishery in the United States.
Grand Lake » View Map
Nearest Town: Grand Lake, CO
Fun Fact: Colorado's largest natural lake, Grand Lake is located right outside Rocky Mountain National Park.
Chipeta Lakes State Wildlife Area
Nearest Town: Montrose, CO
Fun Fact: This wildlife area lies along the Uncompahgre River and is full of small lakes and wetlands, as well as an interesting Ute Indian Museum.
Green Mountain Reservoir » View Map
Nearest Town: Kremmling, CO
Fun Fact: Bring some muscle to this fishing hole - lake trout up to 15 pounds are extremely common at Green Mountain reservoir.