Wilderness Aware Rafting
800-462-7238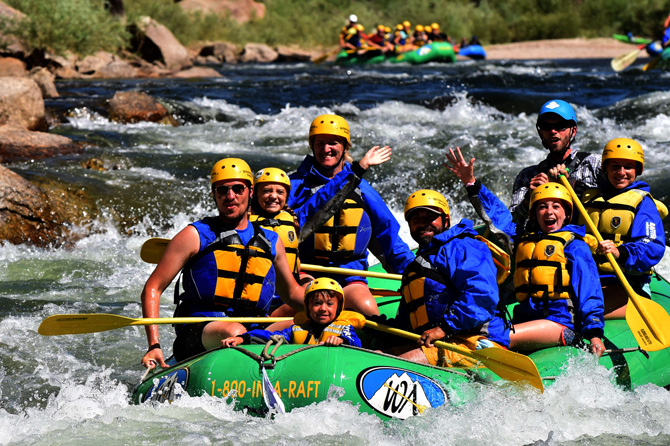 Colorado White-Water Rafting for All Skill Levels and Families
Colorado Whitewater Rafting. . .
Twice named "Colorado Company of the Year"! Established 1976. Highly rated on Trip Advisor. Trips range from wild-water, family whitewater, guided float fishing, and inflatable kayaks. Colorado Adventures has an outstanding safety record because of our experienced guides. Our trips represent a full range of difficulties, but most do not require any previous experience.
COLORADO WHITEWATER RAFTING: We offer 1/2 day to 10 day guided rafting trips on 5 Colorado rivers . . .
America's most popular -- the Arkansas River near Pikes Peak Area, Royal Gorge, Denver and Buena Vista.
Dolores River near Durango and Mesa Verde National Park.
Gunnison River near Grand Junction and Delta.
The Upper Colorado River near Vail and Summit County.
North Platte River near Steamboat Springs.
Our rigorous training program ensures you will have the most highly trained professional guide on Colorado's rivers.
COLORADO INN-TO-INN RAFTING TRIPS: An Inn-to-Inn Rafting Adventure is a special trip for the discriminating rafter. We raft during the day and stop for the night at comfortable bed and breakfast inns near the river. Inn-to-Inn rafting is all-inclusive and perfect if you are seeking world-class excitement with all the comforts of home.
ESTABLISHED IN 1976: Visit our new 7,200 square foot facility along the banks of the Arkansas River in Buena Vista. Free continental breakfast and dog kennel. Our facility is designed to get you organized and off to the river in style.
* FREE BROCHURE. GROUP RATES. *
LOCATION: In Johnson Village just east of the Arkansas River, an easy drive form both Colorado Springs and the Denver Metro Areas.
ADDRESS: 12600 US Hwy 24/285, Buena Vista CO 81211
For Current Rates and Availability; To Make Your Reservations: 800-462-7238 -- Mention the Colorado Vacation Directory.
Rates
Specialty Discounts (call for availability): Groups.
FACILITIES
Elevation: 8000 feet above sea level.
Meals Regularly Served: Breakfast, Lunch & Dinner.
Credit Cards: Visa Card. MasterCard. Discover Card.
Technology For Guests To Use In a Common Area
GROUPS REUNIONS AND WEDDINGS
Groups Welcome: Club. Corporate. Reunion. Youth group with adult leaders.
Group Meeting Area: Outdoor area.
Maximum # of Day-Use Guests in Outdoor Open Picnic Area: 100
Your Host will Cater or Arrange Meals with Advance Arrangements: Yes
FUN THINGS TO DO
Open Dates For On-Site Activities: 5/1 to 9/4
Primarily Summer Activities
Fishing in River, Stream or Creek: On site.
Guided Fishing Trips (Licensed): Wade Fishing. Float Fishing.
Fly Shop: 5 minutes drive.
Whitewater Rafting Office/Pickup point: On site.
Horseback Trail Rides (Guided): 2 minutes drive.
Jeep Trails: 2 minute drive. (off road, back country, 4WD, Jeep, or jeeping).
Jeep Tours: On site (off road, back-country, 4WD, Jeep, or jeeping).
Mountain Bike Trails: 5 minutes drive to trailhead.
Find local Maps & Fun Things To Do for your Colorado Vacation
---