Colorado Jeep & 4WD
Alpine Loop Backcountry Byway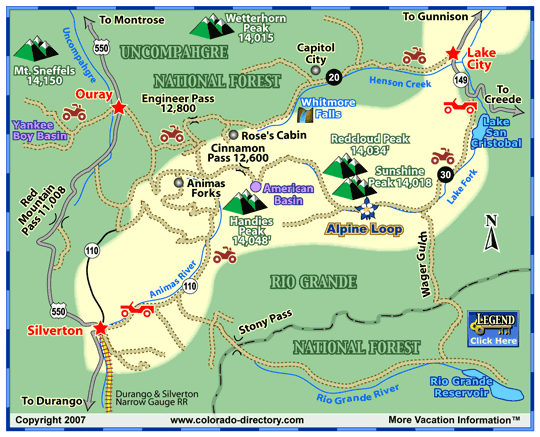 Not all towns appear on map. The publisher does not assume any responsibility for accuracy or completeness of maps. This information was compiled as accurately as possible.
During the 1800's, miners came to the San Luis Valley area to mine for silver, gold, lead and zinc in the San Juan Mountains. To traverse this area, the miners built roads to transport supplies on the road from mule drawn wagons. Today, this road is designated as one of the few Back Country Byways, meaning all 65 miles of highway are gravel or dirt roads. Approximately one-third of the roads are designated only for 4WD and off highway vehicles (OHV: Jeep or ATV). The road is only open between late May or early June thru October, depending on the snow, and travels through the towns of Lake City, Ouray, and Silverton.
Many wonders await you on your off highway adventure. Traveling west from Lake City will take you to Capitol City. This abandoned ghost town was once a potential for the capital city of Colorado, but now is just a few abandoned structures. Six other ghost towns are along the byway, including the town of Animas Forks, where you can explore historical buildings that have been adopted by historical groups, as well as visiting working businesses for a bite to eat. This town is also known for the huge blizzard that hit in 1884, covering the town in 25 feet of snow over 23 days. Abandoned mines are scattered throughout the byway and most of them are only accessed by an ATV or motorcycle.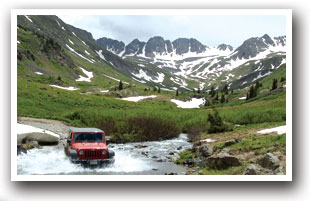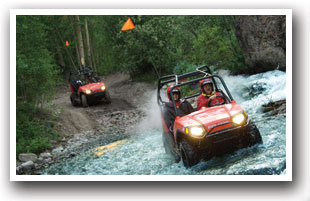 Other highlights on this OHV adventure include Engineer Pass and Cinnamon Pass Road. The Engineer Pass Road traverses at an astounding 12,800'. Here, you can view Mt. Sneffels at 14,150' and Uncompahgre Peak at 14,309'.Cinnamon Pass Road traverses 12,600' and overlooks 3 fourteeners: Handies, Redcloud, and Sunshine Peaks. Both of these passes are rated difficult to very difficult, so be sure you have the right equipment to travel these safely.
Other sights to see include Rose's Cabin and American Basin. Rose's Cabin is one of the first structures to be built in the area, a small inn that served local miners in the 1800's. The building that once housed a bar, restaurant, and 22 small rooms is now a place to explore old mining history. American Basin is one of the most beautiful wildflower viewing areas in the nation. The valleys of wildflowers bloom in late July, accompanied by some of the last wild bumblebees.
For complete Jeeping & ATV Information on the Alpine Loop Contact:
Gunnison Ranger District at Lake City
P.O. Box 89
Lake City, Colorado 81235
970-944-2500
More Activities & Information
Lake City, Colorado includes: Powderhorn
Ouray, Colorado includes: Ridgway
---
Jeep & 4WD in Colorado